Polymarket Digest #2: The Never-Ending Election, SEC vs. Ripple, and Yet Another Bitcoin Record
Have ideas for new markets you want to see on Polymarket? Submit them here: https://tally.so/r/kwkgrw.
What is Polymarket?
Polymarket is the leading global information markets platform where traders bet on the world's most highly-debated topics (politics, COVID-19, Bitcoin, etc.) - producing actionable, unbiased insights on the matters most important to society. New markets added daily, unlimited free trades, and no hidden fees.
🔔 New Markets 🔔
A Biden inauguration… for real?
With well over $20 million dollars in volume, the Donald Trump inauguration market has been our most popular to date. But with Yes tokens hovering at $.90, it was time to revisit the market's terms. Trump bettors had expressed concerns that the Trump inauguration market might favor Biden slightly, given that in edge cases (like if Pelosi were to become acting president, or if the inauguration date were to be postponed) the market would resolve to No. Our solution? A Joe Biden inauguration market which takes the other side in the event of these edge cases. In this new market, if Joe Biden is not inaugurated as President on exactly January 20th, for whatever reason, the market will resolve in Trump bettors' favor. This slight difference now accounts for a 3c difference between the two markets, representative of traders' impression that while unlikely, such edge cases are far from impossible.
The Biden inauguration market now sits at $.87c for Yes tokens. So, if you're a Trump trader looking for slightly more favorable terms, or a Biden bettor convinced of an as-planned inauguration in search of a better return, this market might be for you. With just over three weeks until resolution, both markets represent an opportunity for some seriously outsized returns.
Coinbase to delist Ripple (XRP)?
Last week, prices of Ripple's token - XRP - crashed following a complaint filed by the SEC which alleged that Ripple had subverted federal securities laws by selling $1.38 billion of the currency without having registered the sales or filing a registration statement.   In addition to the prompt selloff, a number of exchanges - Bitstamp, for example - announced that they would be halting trading in XRP for all US customers. The news triggered speculation that Coinbase, one of the largest Bitcoin exchanges which has been slated for an IPO in the near future, would follow suit. Will Coinbase be willing to withstand regulatory pressure amidst an impending IPO, or will American customers looking to trade in XRP be forced to look elsewhere? Polymarket traders seem to think it'll be the latter, with Yes tokens trading at $.73 as of Monday morning.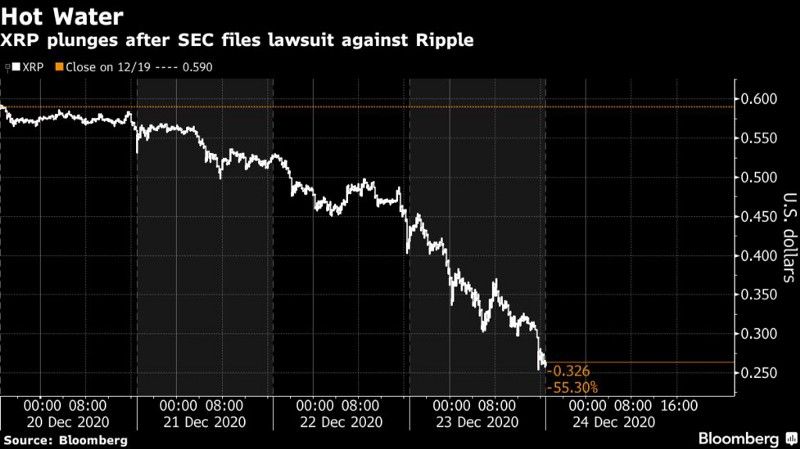 🔮 Market Moves 🔮
Bitcoin Smashes Through Yet Another Milestone
Bitcoin continued to carry the cryptocurrency market to all-time highs last week, smashing through the $25k barrier for which our latest Bitcoin market was priced, and then testing resistance all the way up to $28k.
While the price has since seemed to steady itself, speculation abounds concerning just how high Bitcoin might go before year-end. Betting against Bitcoin's dominance on Polymarket has, thus far, been a costly tactic, with the '$20k by Thanksgiving' market having been the only milestone $BTC didn't reach quite fast enough. Expect to see even more Bitcoin price markets popping up on Polymarket in the near future.
Playboi Carti's "Whole Lotta Red" Finally Drops
After literally years of waiting, Playboi Carti fans (and Yes token holders on Polymarket) were pleased to see that Carti's new album, "Whole Lotta Red", finally dropped on December 24th filled with 16 cuts featuring artists like Young Thug and YNW Melly.
Yes tokens on Polymarket had traded between 75c and 90c since the market's release in early December, and had traded up to 99c by December 22, signaling to Carti fans the near certainty of the album's release in the days and weeks beforehand.
🎉 Giveaway 🎉
Last week we gave out $50 each to traders who tweeted their best Polymarket trades and experiences using #BetOnYourBeliefs + tagged @PolymarketHQ (winners, check your DMs!), and we're doing it again this week!